You can come! We love hosting everything from wilderness dinners to weekend long retreats. Get invited to them!
Follow us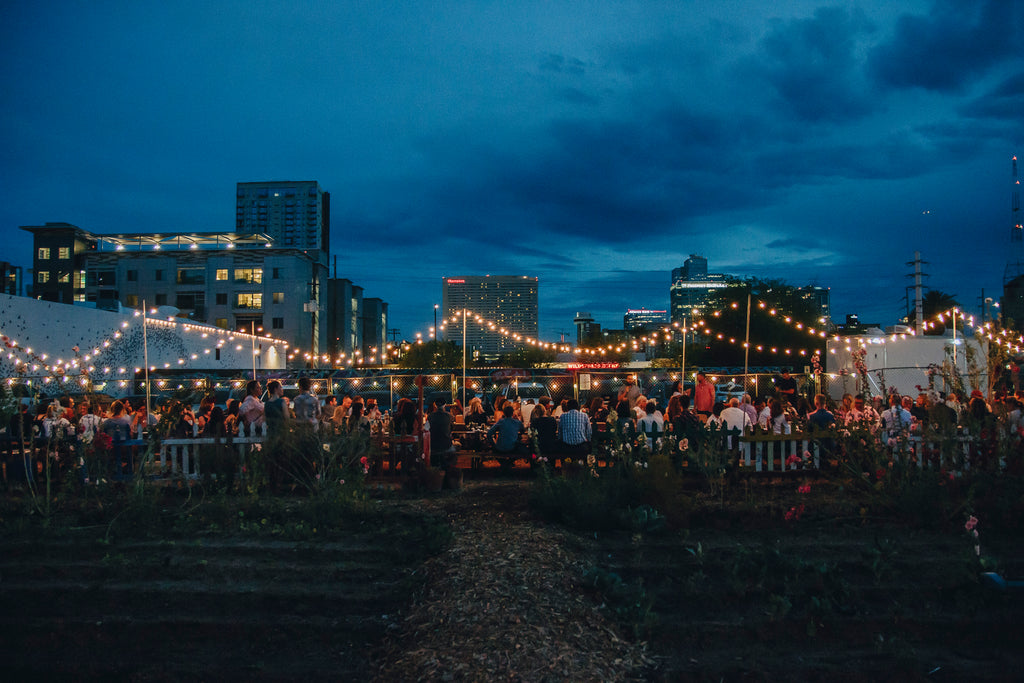 Because supporting arts communities is just as important to us as celebrating the wonder and beauty of Arizona's land - this New Year's Eve we're setting our table amidst the city lights and mural-lined streets of downtown Phoenix's renowned Roosevelt Row Arts District. At the 6th Annual Flannel Ball presented by Homie.
On December 31st, we invite you to share, connect and dine on a spectacular four-course, traditional Southern New Year's dinner prepared by our Chef-in-Residence Michael Babcock, complemented by Tito's craft cocktails, New Belgium beers, and wines from Sauvage Bottle Shop and The Natural Wine Co.. 
Enjoy live music by cellist Third Seven, a "silent disco", and exclusive previews of local art.
All attendees will also have access to the full Flannel Ball event, with a countdown at midnight with one of Flannel Ball's longest-running traditions; the drop of the massive handmade Nopale pinata!

Culinary experience by Chef Michael Babcock of Instrumental Hospitality 


Menu

WELCOME 
mushroom + manchego toast

SALAD 
fall salad - mixed greens - local pecans - goat cheese - Asian pear - herbed vinaigrette

MAIN
hoppin' john - braised collard greens - smothered pork - cornbread - honey butter

DESSERT 
tres leches cake - fresh whipped vanilla cream
"Here is their basic concept: find a mesmerizing outdoor space... and host unique and unforgettable outdoor dinners, not just for celebration, but also to build community."


                  -JAVA Magazine
Please join us on December 31st at:
Roosevelt Row Welcome Center
918 N. 2nd St., Phoenix

8pm - Late
Indulge with purpose

 

-

 this evening's dinner will benefit the Growhouse Urban Agriculture Center (GUAC) and their mission to further an urban agriculture, education and innovation center in the Roosevelt Row Arts District.
IMPORTANT: We can accommodate most dietary restrictions with advance notice. Please let us know in the NOTE section when checking out if anyone in your party has needs we should be aware of. Help us share the full experience! Dietary restrictions received within 36 hours of event start will likely not receive the planned curated substitutions for affected courses.
Please include any other party you are booking within the NOTE section when checking out.
For gift purchases of a single dinner, please include the name and email (or address if you would prefer a physical certificate) of the recipient
*Due to the nature of our dinners, we are not able to refund canceled seats. All seats are transferable! So, if life happens and you're unable to make it, please just give us a call with the new guest's information.
ALL GUESTS MUST BE 21+